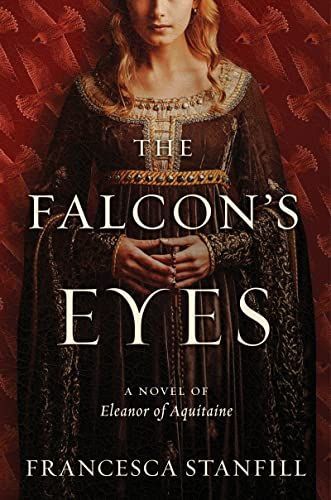 The Falcon's Eyes A Novel
Set in France and England at the end of the twelfth century, the moving story of a spirited, questing young woman, Isabelle, who defies convention to forge a remarkable life, one profoundly influenced by the fabled queen she idolizes and comes to know – Eleanor of Aquitaine Willful and outspoken, sixteen-year-old Isabelle yearns to escape her stifling life in provincial twelfth century France. The bane of her mother's existence, she admires the notorious queen most in her circle abhor: Eleanor of Aquitaine. Isabelle's arranged marriage to Gerard --- a rich, charismatic lord obsessed with falcons --- seems, at first, to fulfill her longing for adventure. But as Gerard's controlling nature, and his consuming desire for a male heir, become more apparent, Isabelle, in the spirit of her royal heroine, makes bold, often perilous, decisions which will forever affect her fate. A suspenseful, sweeping tale about marriage, freedom, identity, and motherhood, THE FALCON'S EYES brings alive not only a brilliant century and the legendary queen who dominated it, but also the vivid band of complex characters whom the heroine encounters on her journey to selfhood: noblewomen, nuns, servants, falconers, and courtiers. The various settings — Château Ravinour, Fontevraud Abbey, and Queen Eleanor's exiled court in England — are depicted as memorably as those who inhabit them. The story pulses forward as Isabelle confronts one challenge, one danger, after another, until it hurtles to its final, enthralling, page. With the historical understanding of Hillary Mantel and the storytelling gifts of Ken Follett, Francesca Stanfill has created an unforgettable character who, while firmly rooted in her era, is also a woman for all times.
Reviews
No Reviews for this book yet

Highlights
No highlights for this book yet.