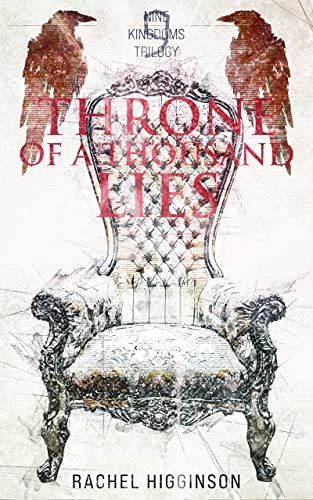 Throne of a Thousand Lies Nine Kingdoms Trilogy #2
An heir to the throne . . . Tessana Allisand might have proven that she's the oldest living daughter of the dead king of Elysia, and that she's the rightful heir to the Seat of Power, but that doesn't mean she gets to be queen . . . yet. Forced to wait until her twenty-first birthday, Tess is supposed to be learning how to navigate court life and all the ways she will one day rule the realm. But circumstances and her nefarious uncle keep getting in the way of her education. A kingdom in turmoil . . . While Tess is pampered with the luxuries of castle life, the rest of the kingdom suffers under the oppressive thumb of the Ring of Shadows. And while no other ruler seems all that concerned with the evil rebels intent on destroying everyone and everything, Tess alone must find a way to stand up to the dark magic threatening to choke the life from her precious kingdom. A love shaken by distance . . . Tessana and Taelon found each other in the depths of the Blood Woods. And just like when they were children, their affection for each other saved the realm. But now, with separate kingdoms to fight for and royal duties to attend to, life is pushing them in impossibly opposite directions. Tess wants nothing more than for Taelon to be at her side. And yet, she will never ask him to leave his own kingdom for hers. Fate seems determined to keep them apart. But it was love that brought them back together. And love that will defy titles, crowns, and destiny.
Reviews
No Reviews for this book yet

Highlights
No highlights for this book yet.