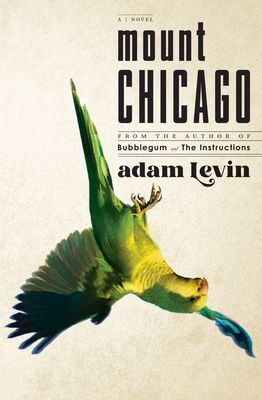 Mount Chicago
From the award-winning author of Bubblegum and The Instructions, a bold novel about the absurdity, humor, and tragedy of survivorship. Adam Levin is one of our wildest writers and our funniest.--George Saunders Solomon Gladman is having a very hard time. He's a multi-hyphenate: a lauded Jewish novelist from Chicago, an infamous underground comedian with a cult following, a creative writing teacher at a second-tier university, and an avid owner of a Quaker parrot named Gogol. But his body hurts; he's depressed. He can't seem to write. His French wife, multiple olive-topped pizzas, getting high on Xanax, drinking--no one and nothing seem to help. And then the ground under downtown Chicago opens up, a catastrophically improbable anomaly that swallows the city center, killing thousands and irrevocably unmooring Gladman's life. At city hall, the mercurial mayor taps a brilliant young aide, Apter Schutz, to help shape the city's rebuilding--and the mayor's legacy--in response to the tragedy. But Apter, fresh out of college and a major Gladman aficionado, has his own agenda. What transpires is a tale of two men struggling to move forward while the world--quite literally--caves beneath their feet. As Adam Levin casts his satirical genius on the demands of Chicago-style politics, great art, Judaism, pop culture, and political correctness, the story moves from Chicago's Loop to its diverse neighborhoods to its wealthy suburbs, and into college campuses, tired apartments, and even the vast depths of the digital dark Web. An audacious, cathartic, metafictional romp through Adam Levin's dazzling imagination and the world we live in, Mount Chicago is a deeply personal monument to love, life, art, and resilience in an age of mind-boggling loss.
Reviews
No Reviews for this book yet

Highlights
No highlights for this book yet.