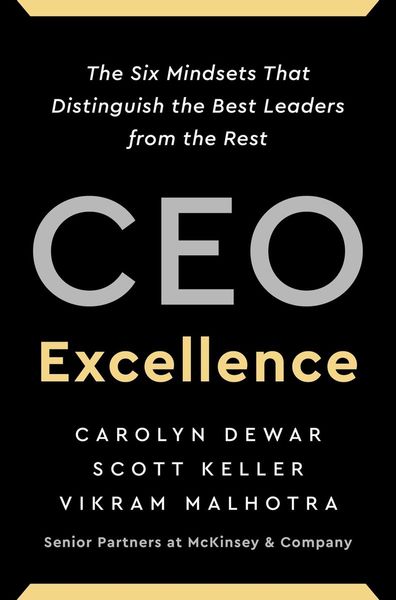 CEO Excellence The Six Mindsets That Distinguish the Best Leaders from the Rest
In the bestselling tradition of Stephen Covey's Seven Habits of Highly Effective People, Jim Collins's Good to Great, and Ray Dalio's Principles, the world's most influential consulting firm McKinsey & Company presents a deep dive into how the best CEOs do their jobs based on extensive interviews with today's most successful corporate leaders from iconic companies such as Netflix, JPMorgan Chase, General Motors, and Sony. Being a CEO at any of the world's largest companies is one of the most challenging, mysterious, misunderstood, and important roles in the world today. The CEOs of the two thousand largest global companies account for more than $40 trillion in annual revenues (more than twice the size of the world's largest economy) and employ 68 million people. Yet even when they reach the position of CEO, very few excel in the role. Thirty percent of Fortune 500 CEOs last fewer than three years, and two out of five new CEOs are perceived to be failing within eighteen months of taking the job. A select few, however, rise to become the best of the best—creating superior value for their stakeholders and becoming role models in leadership. Now, in CEO Excellence, the experienced consultants at world-famous McKinsey & Company have used a rigorous method to identify the 21st century's best CEOs. Starting with a pool of over 2,400 public company CEOs, the top 200 were eventually selected, and a statistically valid sampling of those—sixty-five—agreed to in-depth, multi-hour interviews. Some of the names include: Jamie Dimon (JPMorgan Chase), Satya Nadella (Microsoft), Reed Hastings (Netflix), Kaz Hirai (Sony), Ken Chenault (American Express), Mary Barra (GM), and Peter Brabeck-Letmathe (Nestlé). The authors both demystify the CEO role and provide deep insight into the mindsets and actions that deliver outsized performance. For example, the best leaders focus less on beating the competition and more on reframing what's possible. While working with others, they're far quicker to ask questions than provide answers. And in decision making, they emphasize dialog as much as data. Compelling, practical, and unprecedented in scope, this is a treasure trove of wisdom from today's most elite business leaders.
Reviews
No Reviews for this book yet

Highlights
No highlights for this book yet.